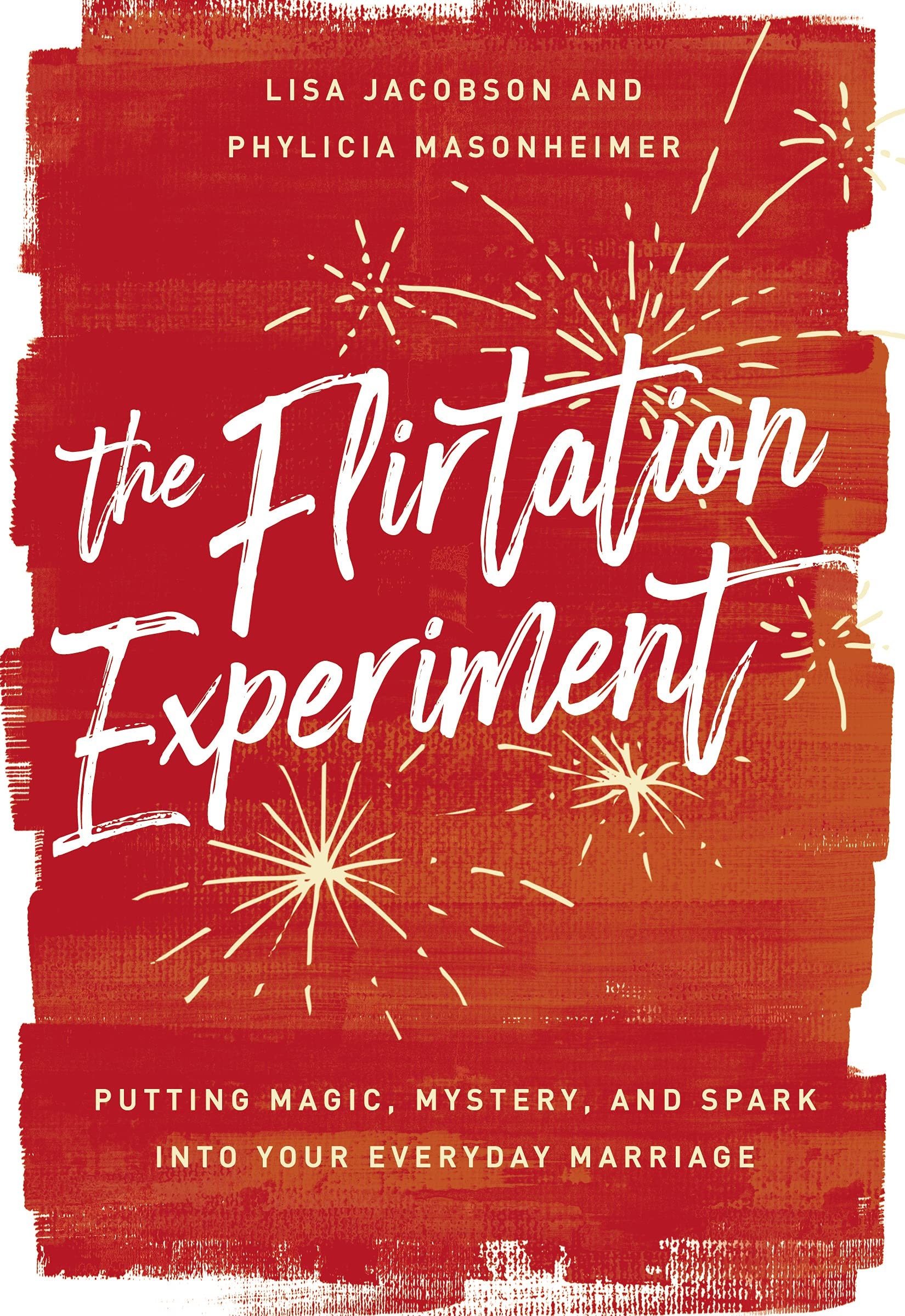 The Flirtation Experiment ... Putting Magic, Mystery, And Spark Into Your Everday Marriage
WOW! This book is sooo good. I could not stop reading each and every intriguing chapter. The Flirtation Experiment is beautifully and authentically written. It is so refreshingly packed with practical tips that I'm sure my husband and I will appreciate. :)  Praise, God!
--------------------------------------
From popular Christian voices Lisa Jacobson and Phylicia Masonheimer, The Flirtation Experiment inspires you to strengthen your marriage with a fun, unexpected approach that leads to the depth, richness, and closeness you desire. 
• After reading The Flirtation Experiment, wives will… 
• be filled with hope and encouragement for how they can make a powerful, positive change in their marriages, 
• become empowered to pursue their husbands romantically, 
• understand the Bible invites women to be proactive in their marriages, 
• be motivated to consistently love in creative ways, and 
• forge closeness and intimacy in their marriages.  
Download the first two chapters FREE:  
... And (drum roll) ... here's the good part ... 
FREE GIVEAWAY: one lucky winner will receive 1 copy of the The Flirtation Experiment! 
Please note: This giveaway is limited to US winners only. 
GIVEAWAY RULES: Be the first to Join my Heavenly Prints by Sonia mailing list before February 18th 2022 at:   and place an order on any of my  , and you will be the WINNER of this amazing FREE book.
When joining my mailing list, you will also receive a welcome email with a link to get 10% OFF when you purchase 2 or more items from my .
The winner of this giveaway FREE book will be contacted and congratulated via email. I will request your full mailing address to send your FREE book. 
You will also be contacted with the shipping timeframe so please provide your email address.
Remember, you have until February 18th 2022 to enter.
If you don't win, but have joined my mailing list, you will still get your 10% OFF on a future purchase of 2 or more items from my . It's a win, win!
 Also, if you didn't win the GIVEAWAY, but would like to order this book on your own, please visit:
#FlirtationExperimentMIN #TheFlirtationExperiment #MomentumInfluencerNetwork 
I cannot wait for you to get your hands on this amazing  FREE book, you are going to love it. ❤️
Cheers to the GIVEAWAY winner!
Disclosure: Many thanks to HarperCollins Christian Publishing for providing this product/product information for review. Opinions are 100% my own. I did receive the product in exchange for this review and post. Yay me!